Venue
MeMeA 2012 will be hosted at the Danubius Grand Hotel Margitsziget in Budapest, Hungary.
Address: H-1138 Budapest, Margitsziget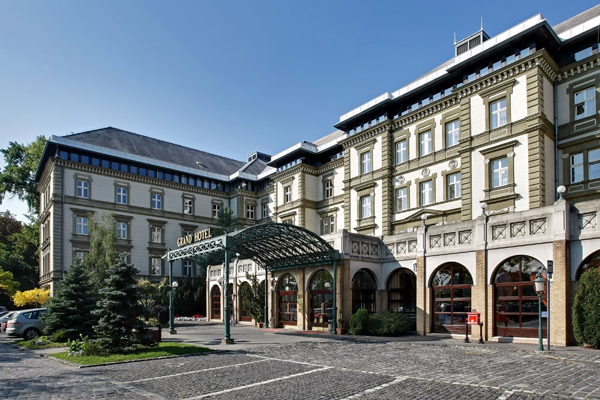 ---
Budapest
Explore Roman ruins, ornamental Gothic churches, broad Parisian boulevards and Art-Nouveau palaces dripping with colourful motifs.
Places which can't be missed:
Europe's largest Parliament building and its largest synagogue.
Castle District with Royal Palace, Matthias Church, a UNESCO World Heritage Site overlooking the river.
Andrássy Avenue and the Heroes' Square, also a UNESCO World Heritage Site
Choose the capital of spas for a city break that eases aches and pains. A staggering 80 natural thermal springs emerge in and around the capital, feeding a dozen mineral-rich baths.
Enjoy a warming dip and take advantage of the water's healing power – it is said to alleviate a range of medical problems, from sports injuries to skin complaints.
Dining, entertainment and festivals
Brimming with energy and rich in culture, Budapest offers fine dining, fantastic shopping and entertainment galore. Hungary has a proud culinary tradition; tickle your tastebuds with stuffed pancakes, meaty goulash, creamy cakes – and much more besides...
The capital has a plethora of restaurants serving cuisines from all over the world.
Savour fine traditional food in Gundel Restaurant, the epitome of distinguished dining and high culinary art.
Enjoy the ambience of Budapest's coffeeshops, some with last-century elegance and others offering a contemporary spin on the café culture.
If you're a culture vulture, head for the city during the Spring or Autumn festivals and revel in their lively celebrations of the very best in classical music and traditional dance.
Join the audiences at top-class performances of music and dance in venues across the city, including the opulent State Opera House.
Arrive during autumn and experience the annual international wine festivals.
Take in some of the 200 fascinating museums and galleries, from master paintings in the Museum of Fine Arts to interactive displays for children in the Palace of Miracles.
The Castle District, the Danube embankments and Andrássy Avenue have been officially declared a UNESCO World Heritage Site.
Budapest's metro was founded in 1896, making it the first underground railway in continental Europe.
An extensive system of caves lies beneath Buda Castle; in the past the labyrinth was used as wine cellars and even as an air-raid shelter.
The Western Railway Station (opened in 1877) was built by the famous Eiffel company.
The Great Synagogue is the second-largest synagogue in the world.
Top that! Experiences not to be missed
Take a romantic cruise to the picturesque Danube Bend, and visit the pretty towns of Visegrád and Esztergom.
Take a lazy stroll through Szentendre, an evocative town popular with artists.
Pop off to play a round of golf at one of the excellent nearby courses.
Go back in time and witness medieval tournaments in historic castles and open-air theatres.
Prepare for a thrilling day at the Hungarian Formula 1 Grand Prix.
Explore the great outdoors with a cross-country horse ride or a peaceful sightseeing trip in a hot-air-balloon.
Spend an afternoon wine tasting under the guidance of qualified experts.
Join a riverboat cruise and make the best of the Danube panorama.
Relish an evening's performance at the exquisite State Opera House.
Climb up to the Basilica's outer gallery and take a bird's eye view of the city.
Take a trawl past the city's highlights aboard an open-top sightseeing bus.
Fulfil those dreams of driving a steam train in the Hungarian Railway History Park.
Take advantage of a really tasty bargain – a cut-price Sunday brunch at Gundel, the country's poshest restaurant.
Visit the Budapest International Wine Festival in autumn, a chance for wine lovers to sip and sniff to their hearts' content!